Pages: 254
Genre: Novella, Magical Realism/Surrealism
Format: E-book
Self-published
This was received for an honest review
When Gransden told me about her novella, we were talking about writing stuffs, she told me or maybe Leo did, I don't remember, that she was releasing a novella. And the novella is called anemogram. and when I saw her blog, I realized just like the short story she sent me, that she was one of those abstract writers. Abstract as in, everything is a sort of mystery that can only be solved by inconsistent dreams that have come to you during the restless nights in small visions and it will maybe take you months to piece them together. It's not a bad thing, it's a great thing in my opinion, if everything was linear, everything in a traditional mold, then where does the innovation go? Where does the curiosity go? Since literature is an art form, you should be able to cut up the pieces and make Picasso paintings right?
I always I love when a surrealist novel takes place in quiet suburbia, I feel like it always brews better in those conditions. Something odd pops out of the bushes and terrorizes a quiet neighborhood that usually expects nothing. In this case, it's this little girl that doesn't really have an official origin, she appears out of nowhere. She seems to have manifested out of nature itself, as you read the novella, there's plenty of vibrant imagery of Mother Nature's creations. There's also a voice in her head that accompanies her throughout the story, telling her fairy tales that all sort of surround the same theme, where something beautiful, eventually dies and there's no way to get it back. (If this is wrong, I read this awhile ago, so it's fuzzy.)
The girl pretends to be the daughter of a father who abandoned her due to dying in an accident or committing suicide. She hangs around a war veteran and eventually ends up living with his buddies and here's the thing, they're all hiding something and it involves doing things that are out of their moral bases, for example, one of the guys is a police officer.
And yet, the main character, this whimsical little girl is still a mystery. But I have a theory, the voice in her head is maybe her dead father and her way of coping and living is to be a sort of Peter Pan. Maybe, they both died and the girl lives on as something supernatural. Nobody questions oddities too much in this book.
anemogram. does what it wants best, to be abstract and leaving the reader numb with wonder. It contains the fantastical fairy tale elements that Helen Oyeyemi is known for, except it takes place in a small British town. It's one of those fairytales with a quirky modern twist of the Sundance movie scene.
Rating: 4/5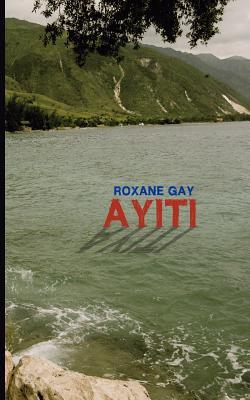 Pages: 108
Genre: Short Stories, Novella, Poetry, flash fiction
Format: E-book
Published by Artistically Declined Press
I live under a rock and I never read a single Roxane Gay book until now. I've always followed her on social media because I liked what she said and found her essays to be mind opening. She's a brilliant women, the type of feminist I look up to, well this is based on what I've read online, I've never actually read Bad Feminist. And one of her books was on sale in late November last year and I had already bought a load of books on Kindle, Octavia E. Butler, Miranda July, and I think Tan Twan Eng. And I will admit that when a book receives a lot of hype, I tend to get turned off until the hype dies down, most of the time I resist because hype= makes high expectations.
I had my eyes on Ayiti for quite awhile and the wait was totally worth it. This little book is the best example of short short stories that spend little time building and instead they actually spend time moving rhythmically and sensually with a poetic prose that embodies the soul and voice of her Haitian background. You can feel the heat, the graze of the sunburned concrete when you encounter the oppressive forces of the imperialism and colonialism in Haiti, and you can taste the blood and salty water. And I hate to write so little about this book, but if you have An Untamed State, then you will like this collection, one of the short stories is actually where the novel is derived from. It's really the most underrated work in her repertoire from what I see on Goodreads.
Rating: 5/5